Christini's patenterede mekaniske all wheel drive system, leverer kraft fra motorcyklen's transmission til forhjulet via en række af kæder og aksler. Helt uden hydraulik, som stjæler energi.
2012 Christini AWD Supermoto
Firmaet fra Philadelphia i USA, har nu fået en 450 ccm gadeversion supermotard motorcykel i handlen her i 2012.  AWD systemet overfører for det meste af tiden over 80 procent af effekten til baghjulet. Men ligeså snart baghjulet har mindre friktion (hjulspin), overføres effekten øjeblikkeligt til forhjulet via et sindrigt gearsystem. Hele systemet bruger under 1/10 HK for at operere, og man kan slå det til og fra – efter behov eller behag.
Billige Kæder?
[amazon_carousel widget_type="SearchAndAdd" width="600" height="200" title="" market_place="GB" shuffle_products="False" show_border="True" keywords="Renthal Chains" browse_node="" search_index="All" /]
DOT Approved Street Legal
Street Legal Kit (lights, horn, turn indicators, mirrors)
Digital Computer with Speedometer and Odometer
Twin Spar Aluminum Frame
450cc SOHC Liquid Cooled Four Stroke
5 Speed Wide Ratio Transmission
Electric and Kick Start
Paoli Open Chamber Forks
Suspension: 305mm (12″) Front and Rear
Adjustable Single Shock with Linkage
Ground Clearance: 356mm (14″)
Front Tire: 17″ Tube Type DOT
Rear Tire: 17″ Tube Type DOT
Brakes: Single Disc 240mm (9.4″)
Tank Capacity: 9.8 Liter (2.6 Gallon)
Seat Height: 953mm (37.5″)
Wheel Base: 1478mm (58.2″)
Dry Weight: 127kg (280 lbs)
AWD Drive Ratio: 0.63:1 (10:16 tooth)
Final Drive Ratio: 0.27:1 (13:48 tooth)
AWD Engagement Switch
1 Year AWD Warranty
450 ccm 4takt eller 300 ccm 2takt
Supermotard motorcyklen leveres i firmaets egen aluramme med 4 takts motor på 450 kubik. Man kan også købe en indregistreret enduro version til gaden (i USA), med 2 takts motor fra GasGas.
Christini har i en årrække leveret "all wheel drive systemet" til både militær og motorsport. Men nu er de altså klar til gade motorcykler også. Der er også mulighed for at købe systemet i løssalg og selv montere det på sin MC.
Video: Grundig gennemgang af Christini AWD
Boss' Steve Christini fortæller her om systemet på 300cc 2 takt maskinen, som endurocross stjernen Wally Palmer kører på.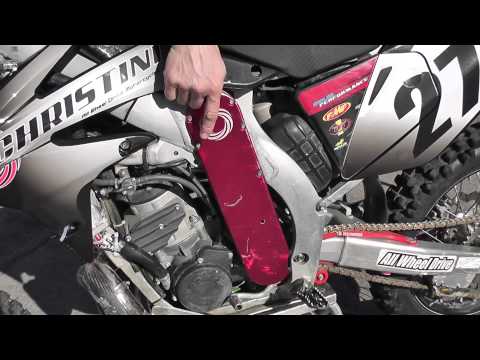 Forhjuls Burnout
Det er bestemt ikke hverdagskost at opleve en forhjuls-burner…