Update: 03-11-2012.
A lot of people riding motorcycles, have asked Supermotard.dk via email: What is the RED ADJUSTMENT WHEEL? 
Here is some information!
Remote Brake Adjuster
Adjust your brakes on the fly with TWM's remote adjuster and never experience brake fade again!
TWM Remote Adjuster for Brembo RCS,  16×16, 16×18, 19×16, 19×18, 19×20, and TWM Brake levers.
This kit includes 1 left hand clamp with colored adjuster, 1 cable, mc colored connector.
The left clamp has an adjustable head, that can be fixed when you have found the right position.
The wire is a steel wire inside a 75cm long plastic hose.
SImple to connect: just remove the stock adjuster and affix the TWM remote adjuster to master cylinder.

BUY:  TWM Remote Brake Adjuster
---
Superbiker Mettet Racing Video.
Danish Supermotard Riders flocked Belgium in October 2012
Andreas & Jonas Mikkelsen filled the Van' with Supermoto bikes from: "Fyn in Denmark", and travelled to Superbiker in Belgium.
400 riders competed in: Starbikers – Supermoto – Quad
Video from Superbiker 2012 at Mettet in Belgium.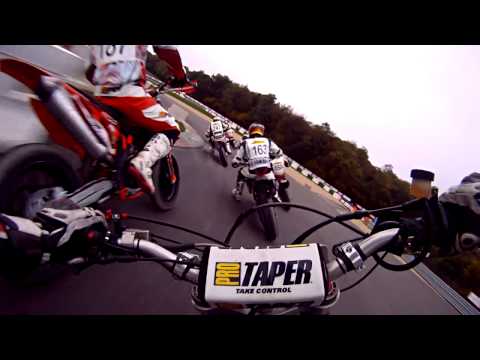 Watch in HD 720p
---
Several other Danes did the same!
Suddenly Camp Denmark at Superbiker 2012 was established!
#22 DALSGAARD Anders DK Honda 450-  22 Racing
#42 MIKKELSEN Jonas DK Honda 450 J.Ø – Racing
#71 JENSEN Brian DK TM 450 Danish Dynamite
#76 HORNE Mikkel DK TM 450
#140 CAPRANI Mikkel DK Honda 449 2Cap Racing
#160 BLACH Allan DK Honda 450
#212 KRISTIANSEN Jonas DK KTM 450 Team NB Racing
#213 RASMUS Nielsen DK Husqvarna 449 Team Midtjysk Mc
#243 MIKKELSEN Andreas DK Husqvarna 530
#266 HANSEN Thomas Bering DK Husqvarna 530 PN Racing
#303 T ANDERSEN Niels DK Aprilia 450 PN Racing
Del artiklen på dit netværk: